CorGrate® Molded – SM Series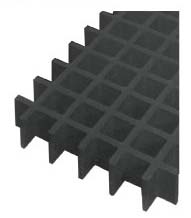 CorGrate Molded SM (Square Mesh) with its high resin to glass ratio provides the maximum corrosion protection of any IKG's gratings. Unique to molded sections, the bars are the same construction, depth and spacing in both directions which result in equal strength in either direction. The top surface is a skid resistant, meniscus (concave) surface with a grit surface optional for additional cost.
CorGrate® Pultruded – FW Series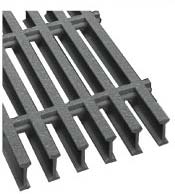 Corgrate FW (Flush Top Wide Flange) gratings are a superior and economical walking surface with exceptional strength and corrosion protection. With sections offering either 60 or 40% open area, the FW products are an excellent choice for working platforms. The sections with flush top crossbars are usually preferred for walking surfaces over non-flush bar products.