When ordering Grating be sure to specify:
Type of grating.
Depth and thickness of bearing bars.
Direction in which bars are to run (span). See illustrations.
Dimensions of area or areas to be covered.
Allowable tolerance (unless otherwise specified, our standard 1/4″ will apply.).
Type of anchors required.
Mill, painted or galvanized finish.
Shipping instructions.
Submit sketch of area to be covered, showing supporting structures, etc.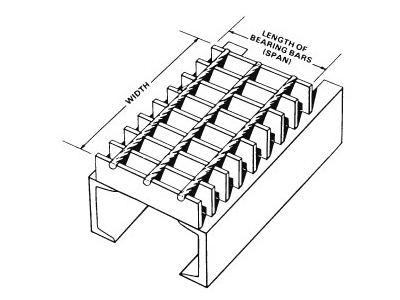 Serrated Grating
Grating is available with serrated bearing bars when specified.
Wherever unusually slippery conditions prevail, such as oil or grease spills or icing conditions, serrated grating is recommended.
All rectangular-bar grating is available with tops of bearing bars serrated when so ordered.
Pressure-lock grating is normally supplied with serrated bearing bars; cross bars are not serrated.
Standard serrations are punched into bars before fabrication. Forming cutouts approximately 1/8″ deep on 1/2″ centers. Protruding lands offer a sure grip for most footwear.
Standard Installation Clearances

Serrated Grating