In the realm of construction, the right materials can make all the difference. Drexel Supply Co., as a premier distributor of Vulcraft decking products, stands at the forefront of providing top-notch solutions for a variety of construction projects. Renowned for its strength, durability, and versatility, Vulcraft decking is an ideal choice for builders and contractors aiming for excellence.
Why Choose Vulcraft Decking from Drexel Supply Co.?

Vulcraft, a division of Nucor, is synonymous with quality and innovation in steel joists and deck products. Partnering with Drexel Supply Co. for your Vulcraft decking needs guarantees access to premium materials backed by our unparalleled service and expertise.
Benefits of Vulcraft Decking
Vulcraft decking is a testament to enduring quality:
Durability: Engineered for longevity, Vulcraft decking stands up to the rigors of heavy use and environmental challenges.
Efficiency: With a focus on ease of installation, these decking solutions streamline the construction process, resulting in significant time and labor savings.
Versatility: Whether your project demands a contemporary design or needs to meet specific structural requirements, Vulcraft decking adapts seamlessly.
Fire Resistance: Safety is a paramount concern in construction, and Vulcraft decking excels with its superior fire-resistant properties.
Assessing Project Requirements
Understanding your project's unique demands is crucial. Drexel Supply Co. assists in evaluating your needs to identify the right types and quantities of Vulcraft products. Whether it's commercial buildings, industrial complexes, or residential structures, we ensure that your choice of decking aligns perfectly with your project specifications.
Expertise in Vulcraft Specifications
Our team is familiar with Vulcraft's specifications. We can assist you in selecting products that meet the structural design and load-bearing requirements of your project. From weight capacity to thickness, we help you navigate these choices to ensure optimal performance and compliance with relevant standards.
Considering Logistics
Effective project management includes a sharp focus on logistics. As your Vulcraft distributor, Drexel Supply Co. offers: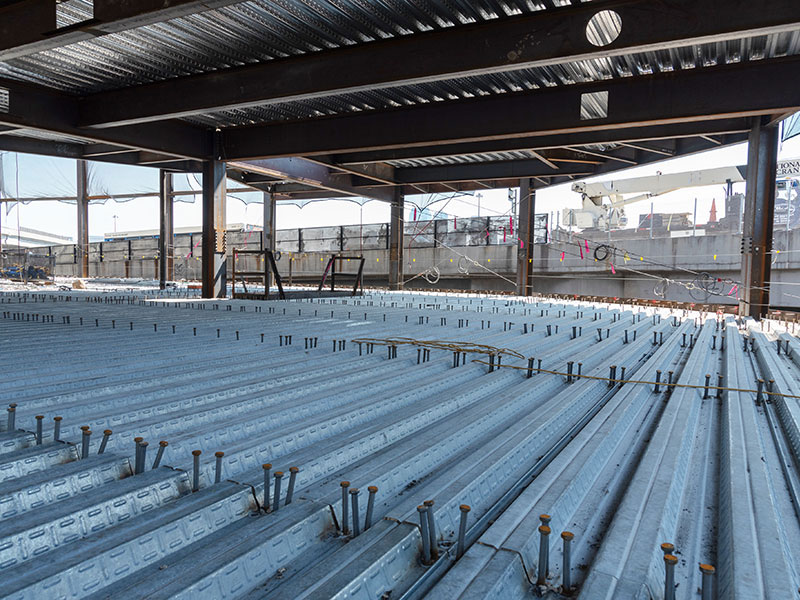 Strategic Shipping: We understand the challenges of transporting large-scale construction materials. Our logistics team ensures efficient, cost-effective delivery to your site.
Local Advantage: Our proximity to various regions translates into quicker turnaround times and lower shipping costs, keeping your project on schedule and within budget.
Seamless Coordination: We work closely with your team to coordinate deliveries, ensuring that the arrival of materials aligns with your project timeline.
Customization and Flexibility
No two construction projects are alike. This is why Drexel Supply Co. offers customization options for Vulcraft decking, tailoring solutions to meet the unique aesthetic and functional needs of each project.
Building Strong Partnerships
At Drexel Supply Co., we view every project as a collaborative effort. We build strong relationships with clients through proactive communication, problem-solving, and personalized support during your project.
Quality Assurance and Support
Quality is at the heart of what we do. We ensure that every Vulcraft product we supply is up to the highest standards. Our team is always available to provide technical support and address any concerns, ensuring your peace of mind throughout the project lifecycle.
Conclusion
Choosing Drexel Supply Co. for your Vulcraft decking needs is a decision that brings quality, efficiency, and innovation to your construction projects. Our expertise in logistics, commitment to customer service, and the superior quality of Vulcraft products make us your ideal construction partner. Contact us today to learn more about how we can elevate your next project with Vulcraft decking solutions.